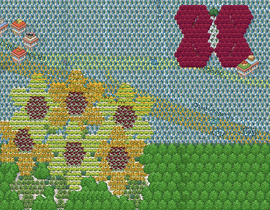 Location:
Butterfly Beach, CA
Creator: blue
Contributors: blue, VampzillaH
Status: Mostly retired
Butterfly Beach started as an efficient pruning pattern for Ornamental Maples created by VitaminD and borrowed by blue, who then decided to add a pattern imitating the Daisies in Fleck. From there, it turned into a plan to create an entire scene out of plants. The final product was expanded slightly to fit the specs of filling out an entire Fleck captured screenshot at two zoom levels out on Fleck Web.
Note from the Creator:
Sit back, relax and pray to god a tidal wave comes in to water this nightmare.
Enjoy the scenery while it lasts!
Random Statistics
Edit
Total Plants: 2782
Time to Water: approximately 18.5 hours of normal stamina recharging
Net Cost: 1,048,120 coins
Dimensions: 72 hexes wide by 50 hexes tall
Daisies: 217
Primrose: 4
Chocolate Cosmos: 114
Bluebells: 1676
White Tulips: 15
Blueberries: 41
Gold Dust Acuba: 47
Duet Flax: 26
Sunset Gold: 240
Apple Tree: 1
Maple Trees: 263
Ornamental Maples: 142
Butterfly Beach started being phased out on May 31, 2011 and was completely retired (except for the butterflies) on June 18, 2011.
Templates
Edit
Most of the backdrop was created on the fly, but I did use a template to form the two main subjects. The butterfly pattern was created by VitaminD.